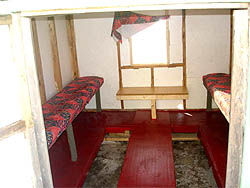 For Beginners
If you're new to ice fishing, here is what you need to do:

Plan to arrive at 7:30am or anytime after. Go to the Lucky's Sons meeting spot and you will be greeted by our friendly staff and driven out to your ice hut. Dress in layers.

We will get you settled in, show you how to work the stove, how to bait your line, and start you fishing.

Throughout the day, we will check up on you to see how you are doing and help out as needed. At the end of the day, we will bring you back to land and help pack your fish for the trip home.

Most of all, have fun, relax, and enjoy your ice fishing adventure!

Reservations are required, please call(705) 456-9039 or submit an online request and let us know how many people are in your party and what day you would like to fish.